Imprint: the restaurant, bistrot and wine bar perfect for your stop in Venice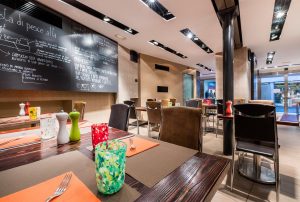 Impronta was founded 13 years ago with the intention of offering a meeting point where businessmen, university students, passing tourists and Venetians could gather and taste all the delicate flavors of typical Venetian cuisine, in dishes always revisited and enriched by elements new. A continuous and delights for the palate that led the Impronta restaurant towards an increasingly consolidated affirmation, until today becoming one of the best places to eat in the Frari area of ​​Venice.
Different menus every day
Imprint is proposed as a meeting from the early hours of the day, with breakfasts based on steaming freshly baked croissants. Its wide range of products can satisfy every request, thanks to the croissants available also in vegan version. At lunchtime, the restaurant offers its customers always rigorously prepared menus at the moment. Fresh salads and dishes based on meat or fish, accompanied by a wide range of snacks, are the basis for different menus every day. In the à la carte menu you can find the typical dishes of the Venetian tradition enriched in a contemporary way, as well as always new and refined proposals. The careful selection of raw materials, preparations that see the use of fresh seasonal vegetables and meat of the highest quality, combined with fresh pasta made by hand, are the ideal ingredients to satisfy even the most demanding palates.
Book your table
To make sure you have a reserved seat, book your table today. You can do it conveniently online by filling out the appropriate form, or by calling 041/275 0386. If you are organising a meeting with friends or you are in Venice for work or on holiday, the Impronta restaurant is the ideal place to spend a pleasant evening.